Now that Windows Phone 7 has launched in the UK and Europe, and on Nov 8th in the US, it's time to update you all on our London Travel project, what's available right now, and what's to come in the future.

*Open this link with Internet Explorer or Search "London Travel" with your Zune Software
A few months back, as launch details started being released for the new Windows Phones, Me, Michael and Levente began to realise our app idea was a bit too ambitious to have ready for launch, so we had to give some thought to what we should do. None of us wanted to compromise the original idea, so we decided to develop two apps instead of the one. This would enable us to have an app ready for launch, and to have a presence on the Windows Phone App Marketplace, allowing us the time we need to complete development on our fully featured app.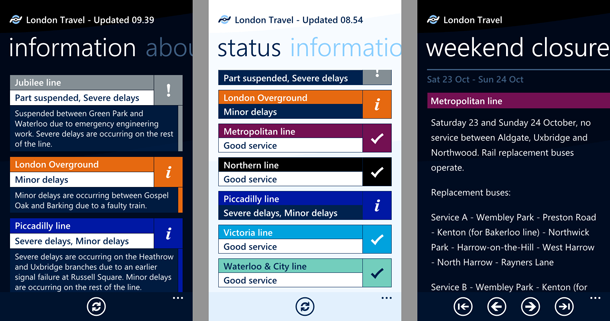 It was for this reason we made the decision to offer the simplifyed version for free, and to focus development efforts on having this free app ready. An added benefit with this, is the ability to recieve feedback on some of the UI elements, and more technical aspects of our app, which we could use to help improve the other app. One of the issues we came up against, is the unreliable nature of the Transport for London's data services, which resulted in us having to completely re-write our web service which handles the transfer and formatting of the data from TfL, to our app. We also took the opportunity to implement Push Notifications in both the free and pro apps, for services chosen by the user.
So we now move on to our main project… London Travel Pro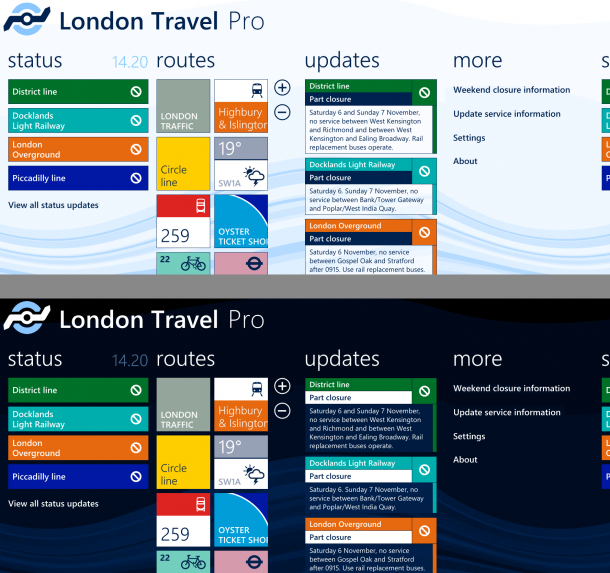 With our first app now available to download, we move our focus onto our original project. We have been working with people from Microsoft UK, who gave me the opportunity in early October, to test both our apps on a developer handset, and to discuss some of the more technical aspects of the development and submission process, so thank you to Mike Ormond and Paul Foster for giving me that opportunity. I was lucky enough to also meet some of the guys who have been developing the pretty cool Graphic.ly app, and one of the guys responsible for Windows Phone marketing in the UK
I also have been talking to some people at TfL to ensure our app complies with all the requirements set out by their interlectual property team, and as such we have made a number of tweaks which I believe has greatly improved the look and functionality of the app, as well as ensured that we will have no problems in the future with complience – a problem many other apps for other platforms may find themselves experiencing, once TfL begin taking legal action.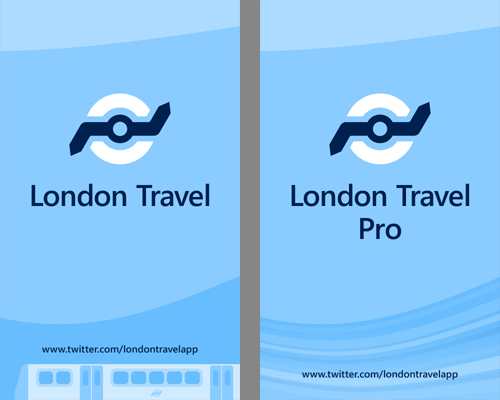 So there we have it… Work continues, and if you can't wait, we have a free app for you to use until we can deliver our pride and joy. We will be tweeting progress as we complete various parts of it, and if you have any feedback, problems, criticism or praise, please tweet us @londontravelapp.