This is just a quick updated to show how things have progressed.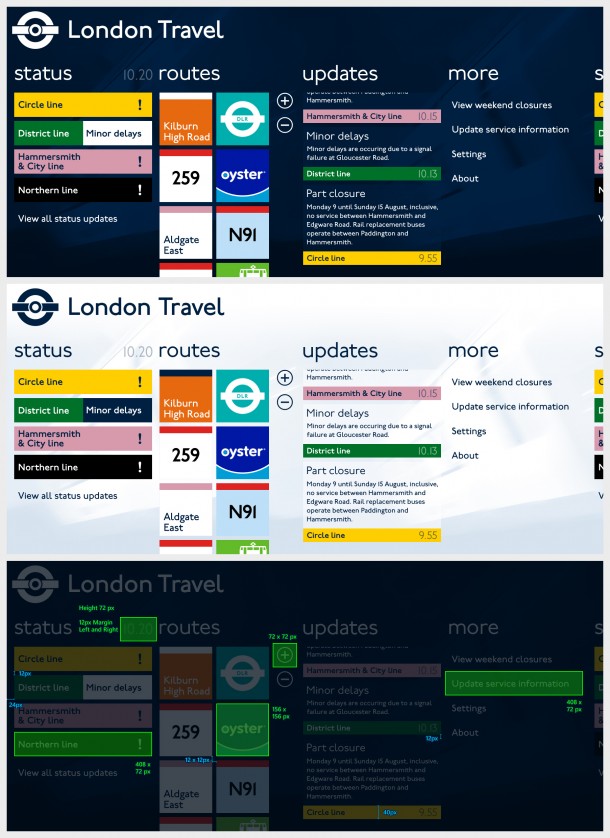 Here is the Panorama main UI of my app looks so far.  Things are not completely final, but they are settling in nicely.
I have two great and enthusiastic people on board helping me realise this app, as well as help from a great guy at Microsoft UK.
Michael Josiah is working on building a web service which aggregates the various data feeds and API's from Transport for London and then processes them into a powerful data pool which the app will make use of, with data optimised to run well on the phone, and provide small and compact downloads, so it should never slow you down!
Levente Mihaly is someone with experience of data driven Silverlight apps, and will be taking the UI code I am building, and making it function with the live data our app will be using.  We will be making use of the MVVM (Modal, View, View Modal) practice in building applications which he is a proponant of.
Hopefully some time soon, we will have a beta version which I will detail online and on YouTube, before testing on real phone devices in September, for a launch of Version 1.0 in October.  Apart from this initial front end UI, a lot has been done for the more detailed areas of the app, and the presentation of data in a clear and clean manner, as well as significant work on the back end.
Follow us on twitter:
Levente Mihaly
Michael Josiah