Coming down the line
So those are the features we have coming in the near future, but what about further down the line?
We plan to include as much as we can that Transport for London provides data for, such as Cycle Hire and Traffic Disruptions, but not only include them, but try to combine them in interesting ways to make your daily commute, or your visits to the capital as seamless and carefree as possible.
As well as those, we have the next big release of Windows Phone coming soon, currently codenamed Mango which is due out towards the end of the year. We fully intend to support the pinning of our tiles to your home screen, enhanced Live Tiles and more reliable Push Notifications, Bing Maps and Navigation support.
So where are we right now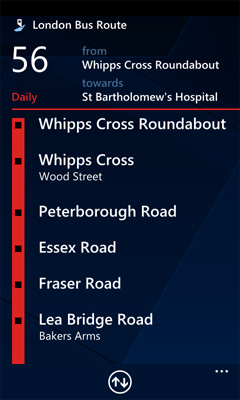 To close, I would just like to recap how we got to where we are right now.
I came up with the idea for this application after hearing about the new Windows Phone OS that would be coming in October for the UK and Europe, and November in the US.
Interested in my ideas, two great developers came on board and we all got familiar with WP7 development and began with tests and exploring just how feasible the idea would be.
We launched our first app in November, and this offered some basic functionality for free, in order to show how we planned to display this data and work with the Windows Phone Metro UI. We have had as of writing this post, over 5,300 people download our free app.
One of our rival apps decided to rename their app to London Travel, which we felt would lead to some confusion, so we changed our name to City Travel
We continued to update our free app whilst continuing work on the premium app which was my original idea from the get go. Eventually we launched our paid app in February for £1.99. As of writing, we have sold our app to close to 100 people, but as new features come, and the price drop is brought in, we hope to sell many more.
So there we have it… We will be tweeting progress as we complete various parts of it, and if you have any feedback, problems, criticism or praise, please tweet us @citytravelapp.