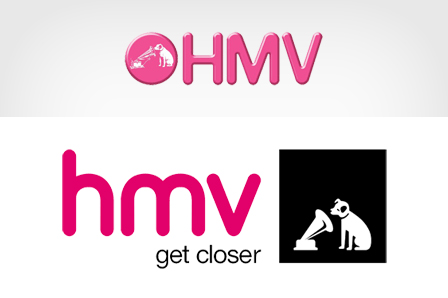 I'm sure everyone reading this will be aware of HMV, and their iconic logo. HMV stands for "His Master's Voice", and their mark was of a dog sitting by a grammerphone.
When I found out, they were planning to re-brand, I was worried they would consider scrapping that cute little dog, or replace him with maybe an Aibo and an iPod :)
Fortunately, it seems venturethree, the group responsible for making the Sky logo glass, realised how bad a move it would be.
When out looking around Oxford Street the other day, I noticed they had started introducing the new logo to in-store posters, and now to their website.
I was surprised how well they carried it across. Yes the dog design is not so realistic, and has been vectorised in a more stylistic way, but all the better I say. It now matches the simple logotype of HMV, sorry, lowercase hmv now, and the pink and black colour scheme remains.
With such an iconic logo, it is easy to make the mistake of ruining it with a change of logo, but this brings a much needed refresh to the high-street brand
Once the stores start being re-furbished, and Eurostile font on signage changes to a softer font, or a custom round edge font like the logo) then it will be interesting to see the new look come together.